I've been a big proponent of barter and synergistic relationships for years. I know a lot of abundance and business experts don't agree with me. They believe that you need to always ask for the money, and to do less is devaluing yourself.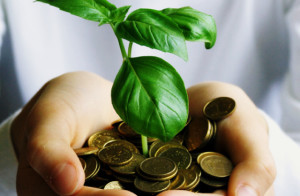 Money is a symbol of value. It's a way to quantify energy – the energy of labor, goods, services, time, etc. While I certainly do enjoy having money for things that must to be paid that way, I get super excited about the way nature pays.
Nature is much more generous with me than I would be with myself. What I would ask for in cash value is rarely as much as I'm paid in use value by natural laws. But even if I don't ask enough, I believe by law the excess energy will come back around when I need it.
In any free energy exchange (whether money is used or not) at least two people are blessed. Not only am I getting what I want or need, but at least one other person is as well. This is one reason why theft is wrong. It's also why forcing someone else to be charitable is wrong. You're taking the energy, but nothing is being given in exchange.
I have had so many wonderful things come to me that did not require money on my part. They did require relationship capital and sometimes an expenditure of my mental capital. Here are a few things I've received through collaboration and synergistic friendships that I did not have to pay cash for:
Professional branding and rebranding consulting
Disney tickets for the whole family
Web design and graphics work
Instruction on web design
New clients, referrals, leads
Programming code and instruction
Free sales and marketing advice
Private mentoring on abundance that in time multiplied my revenue 10-fold!
A friend and I once generated $40,000 in a month through collaboration and repeated it for the next 3 months.
Private tutoring on creative writing and editing from a university professor
Private instruction on copywriting, including re-writes of my copy, critiques of my copy, and even complete sales pages and emails written for me.
A round table of experts who'll brainstorm with me on virtually any idea I come up with as needed.
Amazing insights from gifted visionaries who've helped me along my spiritual path.
Professional advice on structuring and optimizing group coaching and mentoring.
Assistance at my events – people who manned book sales tables, brought refreshments, found locations for the events.
Two #1 Amazon bestsellers and #1 Amazon Movers and Shakers and a Barnes and Noble bestseller
Private coaching and product development advice.
A team of people who gathered around me with professional advice, support and encouragement when I took the biggest leap ever in my business.
That's just the tip of the iceberg.
Money is a means to an end. It isn't the end. What's important are the things you trade the money for — the resources, time savings, energy savings, wisdom, work and goods. I've been richly blessed to receive the things I need, often without money being involved at all.
In my asking and envisioning, I try to focus on the outcome I desire. For example I see myself traveling, or enjoying the lifestyle I desire. Or if it's an item, I visualize myself in possession of the item and owning and enjoying it. It doesn't matter "how" I get it (ethically of course). My earning the money to pay for it may never be a part of that equation.
For example, years ago when my oldest 3 kids were little they wanted to go to Disney World and we were planning a trip. I happened to be working on a database programming project for the VP of Sales at Coca-Cola. He was a nice family man and one day he mentioned he could get me free tickets to Disney. I figured he'd give me a ticket or two. He ended up giving us full multi-day hopper passes for the whole family!
I believe there always has to be an energy exchange. When we visualize something coming to us, we must give some energy to receive it.
For us to tap into this type of abundant living, we have to be open to inspiration that tells us to "do this," "help this person," "give that person this." As we listen to those promptings and act, we sow the energetic seeds to later receive what we desire in return. I've found that while sometimes the person I help is the person who brings me my answer, more often the person I help is not the person who has what I need. It comes from someone else.
I must release WHERE it comes from, WHO else is involved and WHEN it will arrive. My job is to take care of ME (the only WHO I have a say about), WHAT I desire and WHY I desire it. Release the outcome, and let nature take its course. In the end not only will I receive what I need, but also several other people will probably have their desires met as well.
Marnie Pehrson is a best-selling author and marketing and social media consultant specializing in digital content creation and Facebook Ad Management. Get a FREE 20-minute strategy session with Marnie here.