Many business owners think if they just advertise, they'll be able to get lots of business. This simply isn't true. Not everyone's business is ready for paid advertising. And not every form of advertising is a good match for your business.
I started out as a computer trainer back in 1990. I tried advertising on the radio and in a local business magazine. Neither was effective.
What I learned is that you need a budget big enough for repetition and you need the right venue to reach your ideal customer. For example, I ran a display ad in the local business magazine for a full year and never got a single lead. Why? It was a free glossy publication mailed to businesses who had not opted in. Obviously, nobody was really reading the magazine!
What did work for me was a little ad in the Help Wanted section of the Chattanooga Times Free Press offering to train people on the software of the day so they could get jobs. This little $5/week ad in the Sunday paper brought me a steady stream of students.
I was solving a pressing need for a very specific audience who were actually reading the publication in which I advertised.
Today we aren't limited to expensive radio, TV or print advertising. Online advertising can be powerful, specific and highly effective. It's much more affordable to purchase the repetition needed to convert lookers into leads and into buyers. Unfortunately, with online advertising, you're also competing with an every-growing sea of content.
Over 30 billion pieces of content are shared on Facebook each month (KissMetrics).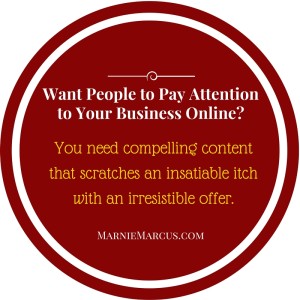 Cutting through that level of noise takes pinpoint targeting to your exact audience, and compelling content that scratches an insatiable itch with an irresistible offer.
Facebook advertising, for example, can be very effective in reaching potential prospects. But, if you don't have certain things in place, you'll be wasting your money even with the best targeting and ads.
5 Things You Need to Be Ready for Prime Time Advertising
1. A Message Worth Sharing
This may sound obvious, but there are a lot of people hanging their shingles as a life coach, a business consultant, accountant or lawyer who look like thousands of other businesses in their field. They aren't distinguishing themselves. There's nothing unique about them.
Here are three places to start to make your message unique:
Start with a compelling story that connects with your audience. Tell how you dealt with the exact same challenge your audience faces, how you hit bottom, how you came to breakthrough and how you want to help others through the same thing you've been through. "The more personal the story, the more universal the message," says Ted McGrath. Nothing connects like a well-crafted story.
Zone in on a unique niche. A business consultant who helps people start and successfully manage their own specialty dress shops will be able to zone in on her audience and connect with them better than if she just said, "I'm a business consultant."
Bring your personality and uniqueness into your marketing. Perhaps you're a pet enthusiast or a fly fisherman or a classic car collector. Bringing metaphors from your hobby into your business will help you connect with people who resonate with your interests. You'll build instant rapport with them that your competitors won't be able to. Of course, do a little research and pick a hobby or interest that a large percentage of your niche will resonate with.
2. A Place to Gather Your Audience
I believe it's imperative that you have an email list. It's not hard to set one up, so just do it. But, even if you don't have a mailing list, you can gather audiences using Facebook's custom audiences. You won't own those audiences but you can run ads to them for future campaigns. They can be stored for a maximum of 180 days. Click here to learn more about capturing Facebook audiences.
3. An Irresistible Free Offer
Signing up to receive your newsletter or to know when your new book is going to be released, just isn't compelling enough anymore. You need to offer a solution to a burning problem. If you're the business consultant for people opening or operating retail dress shops, you might offer a free checklist, "10 Things You MUST Do Before Opening Your Dress Shop Doors."
This zones in on one segment of your audience — the ones getting ready to open their doors. It's not really speaking to the ones already managing a dress shop, but that is ok. You can create another special report for them.
4. A Follow-up Email Series
It's rare for anyone to make a purchase on the first interaction with you. It's not impossible, but it's not probable. You need a series of educational emails in place to send to your subscribers. These emails should establish your credibility, build trust, pre-educate your prospect so they see the need for what you're selling, and eventually ask for the sale.
5. Something to Sell!
If you aren't selling anything, you can't recoup your advertising investment. It's that simple. Even if you're selling a service or something virtual, you need to think like a brick and mortar store. Would you start running ads if you hadn't opened your store? If you had no products on the shelves? If you hadn't installed your cash registers yet?
Should you spend money on advertising your Web site if you don't have sales pages and buy buttons? If you don't even have a way to capture the people who are arriving? If you've still got "coming soon" on major sections of your site? Probably not!
There are exceptions though…
Our local Planet Fitness sent out a "Coming Soon" over-sized postcard a month before they opened their doors in December 2015. This was smart because I was shopping for a new gym closer to home, and I might have signed up with another gym had I not known that Planet Fitness would be opening within a month very close to my home.
This was a targeted campaign prepping me to purchase. You can do the same thing with your Facebook advertising. If you don't have a product for sale yet, but you know you'll have it ready in a few weeks, you can start building your audience now. But, you better have a way of capturing and following through with them.
Never spend money on advertising if you can't at least gather an audience somewhere.
So there you have it, 5 things you need to have in place before you spend a dime on paid advertising.
If you have these in place and you're ready to roll, let's talk. I offer a free 20-minute strategy session to discuss ways you can use Facebook ads to grow your business.
Marnie Pehrson is a best-selling author and marketing and social media consultant specializing in digital content creation and Facebook Ad Management. Get a FREE 20-minute strategy session with Marnie here.