If a mom never took time for self-care and constantly spent her strength on her career, volunteering, saying "yes" to everything asked of her until she was depleted, ragged and worn and she had no time to enjoy her life or children, we'd tell her she's killing herself. That she needs to put her oxygen mask on herself first.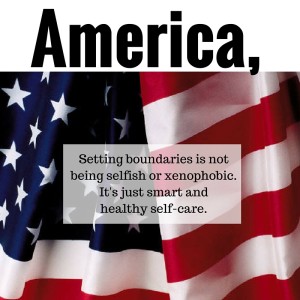 Why do we expect our nation to
spend her strength in foreign wars,
pay to bail out every corporation,
take responsibility for other people's refug

ees,

rebuild other nations,

spoil our children with freebies
when we're drowning in debt and our elderly live on peanut butter? Our seniors are the ones who invested their lives' earnings for a retirement, yet they have been stolen from and treated like second class citizens.
Many of our own people are homeless, barely scraping by, and those who protect us are paid peanuts and begrudged pay and medical care when they return home from fighting in these foreign wars.
What is true for an individual is true for a nation. It's time to put the oxygen mask on ourselves. It's not only logical, it's the merciful thing to do.
Speaking as someone who has been physically depleted in recent months, when you get to that point, you're no good to anyone. The best thing for everyone is for you to get healthy again, rest and focus on those close to home.
I'm getting so sick of people saying its callous, selfish, evil, racist or egotistical for America to focus on our own health as a nation instead of saving the world when we're teetering on demise ourselves.
Marnie Pehrson is a best-selling author and marketing and social media consultant specializing in digital content creation and Facebook Ad Management. Get a FREE 20-minute strategy session with Marnie here.