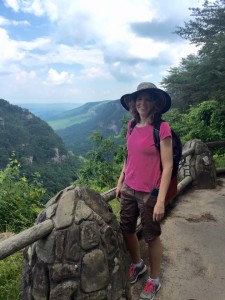 Have you enjoyed the vistas of a breathtaking spiritual mountaintop? And after some time there, felt inspired to do something equivalent to diving off a cliff?
In faith, you leaped. You expected to sprout wings, but they didn't extend… At least not enough to keep you from flailing about, struggling, crying and landing in an excruciating heap.
As you lie splattered on the earth, crushed and battered, you question what you heard and the choices you made. Maybe you even got frustrated, confused about, or downright mad at God.
Why in the WORLD would He tell you to do that? Maybe He didn't and you were drinking some weird Koolaide.
Eventually, you make your peace with Him and with yourself. You nurse your wounds for a spell and life starts to reboot. You can breathe again and your soul starts to heal. It's not painful anymore when you move.
You even see some reason for it all, perhaps some method in the madness. You even see it has all worked together for your good.
At this point the Spirit whispers, "I have another mountain for you to climb."
Wide-eyed you reply, "Are you bonkers? I'll sit here where it's safe and warm, thank you very much."
"It's time to relight your fire," that still, small voice whispers.
"Who needs fire? I'll just stay here lukewarm and safe," you insist.
But the longer you stay in this comfortable place, the more you know that you were never meant to play it safe on the ground. You were meant to climb, reach breathtaking vistas, and yes, most likely free fall and soar.
"Sigh… Here we go again. Which mountain, Lord?"
"Patience, child. Let's prep for the trip…"
Marnie Pehrson is a best-selling author and marketing and social media consultant specializing in digital content creation and Facebook Ad Management. Get a FREE 20-minute strategy session with Marnie here.