[This blog entry is the 13th in my Quest for Love Series. If you'd like to start at the beginning, click here.]
I don't know if it's just me or if it happens to others, but the right people always come into my life at the right time. The exact mentors, friends, teachers and companions intersect my path to help me get through whatever it is I'm dealing with. They're guides who help me navigate to my next destination.
It's like being on a winding road on a dark, rainy night and seeing tail lights just ahead. What a relief it can be to have someone to follow!
When I'd first decided to get a divorce, but hadn't even told my spouse or family, I had a business acquaintance come to mind.  We had exchanged services about six months earlier.  One day she was on my mind, so I sent her an email to ask how she was doing. She replied that my timing was impeccable. She'd had me on her mind as well. She'd even put my name on her to-do-list for contact, but hadn't gotten to it yet.
We set up a time to talk, and she asked how my life and business were going. I admitted to her that I had decided to get a divorce. In response she revealed that she too was going through a divorce. I had no idea this was the case. She and her spouse had filed several months earlier and because of the state they lived in, there was a lengthy waiting period.
What's more, her marriage had an extremely similar dynamic to my marriage. She began telling me how she and her husband-at-the-time had mapped out an amicable divorce that helped their children make the transition more smoothly.
At the time, it never occurred to me that a divorce could be as amicably as she described. She gave me tips and pointers for making it flow better. I ended the call by thanking her for letting me "follow her taillights."
Over the last couple years, this woman and I have become wonderful friends. Soul sisters, if you will. Sometimes I'm following her taillights and sometimes she's following mine. Our paths intersect in so many interesting ways. It's as if we're always learning similar life lessons. The opportunity to share our experiences lifts, encourages and gives each of us more insight into our own challenges.
I'm very grateful for those little nudges that have come over the last couple years that have prompted either she or me (often both of us simultaneously) to reach out to the other.
As you go through your journey of life, I hope you'll open yourself up to receiving the people God places on your path to show you the way. It's a huge blessing to have a shoulder to lean on, a sounding board, or a soul sister to share your heart's concerns. It's a priceless gift to have such friends.
PS: Want to hear something weird? The minute I saved this blog, my friend (who I haven't talked to in several weeks), texted me to say she had a window to talk and wanted to know if I could. Yep, it's fun having a soul sister!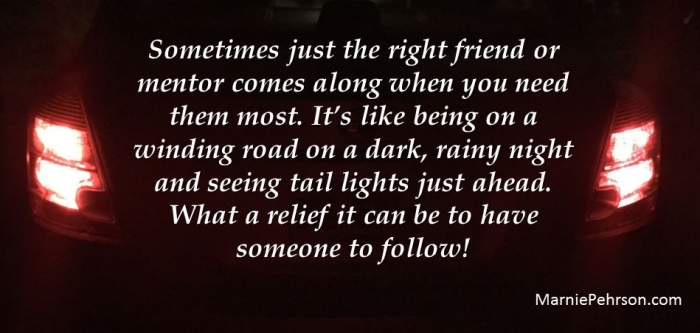 Marnie Pehrson is a best-selling author and marketing and social media consultant specializing in digital content creation and Facebook Ad Management. Get a FREE 20-minute strategy session with Marnie here.