Facebook reminded me that 1 year ago today, I was in a car wreck that resulted in about $5,000 worth of damage to my only car.  I remember that morning well. I was in the throes of a whirlwind romance. It was one of those all-consuming, instant, chemically-magnetic relationships.
I'd been up late the night before skyping this man who lived 2,000 miles away.  In fact, I'd spent literally 60 hours in the previous week talking with him. I know, it sounds insane, but we were both off work for Christmas break and the connection was unreal.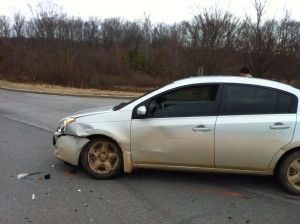 I was making a left turn out of the high school toward the middle school to drop off my youngest son. I looked both ways. There was a line of cars turning right into the high school. The visibility is never great there and there's always a bit of risk involved. Not seeing anything, I pulled out to suddenly see a van careening into my little Sentra. It hit us so hard; it pushed my car until it looked like I'd been turning right instead of left.
I remember praying that it wouldn't crush Elijah who was sitting in the back seat behind me.  Finally, my car stopped and my side of the car was completely flush with the van. I checked on Elijah and he'd actually slept through it. He woke up and asked, "What happened?"
Thank heavens, he was fine. I was shaken, but no injuries. The first officer who appeared on the scene was the middle school's School Resource Officer. He came to the passenger side of my car, and I rolled down the window to speak to him.
He asked if we were okay. I confirmed we were, and he said, "I don't know if you remember me, but I'm Morgan's son, Chris."
A wave of relief washed over me. I wouldn't have recognized him, but I've known Morgan since I was 11. She was my favorite Sunday School teacher as a child. I'd grown close to her over the previous three years as her sage advice helped me navigate the divorce and re-entering the dating world.
Never once did she try to set me up with her single-again son. Although, when she mentioned him in passing there was always a little hit…  "Hmmm." While we'd gone to church together as youth, I honestly didn't remember him at all. I wouldn't have recognized him. But there's no denying he's Morgan's son. He looks so much like her.
More officers appeared on the scene and Chris went back to the school. At the time, I beat myself up for not seeing the van. How did I not see it? Was my mind so love-struck over the budding magnetic romance? Was I not as observant as I should have been because I hadn't gotten enough sleep?
I didn't feel sleepy. I don't think I was that out of it. At the time, it was a real hardship for me to come up with the $1,000 deductible to get my car fixed. I tried to look on the bright side. My car got a new front end (which it needed), and at least I had the rental car option on my insurance.  I had something to drive.
Heavenly Intervention
What I didn't know then was that a year later I'd be blissfully married to Officer Chris Marcus! It makes me wonder if there was some kind of heavenly intervention at work.
The relationship I was in turned out to be a major heartbreak.  Had I ended up with this man, it would have meant sacrificing a lot of who I am. We did not share the same core values or beliefs.  Those variations and major communication issues eventually drove us apart two months later.
If we'd followed through on our discussions of marriage, it would have been one of the biggest mistakes of my life. I was literally making a left-turn when I needed to be turning right. Interesting symbolism, don't you think?
Did my angels orchestrate this wreck as a wakeup call to alter my direction? Were they saying,
"Hey, you're going the wrong way, Marnie! Chris Marcus is the man you're supposed to be with! Look! Here's the answer to your prayer right in front of your face every day as you drop off your son!"
Or was it my higher self that knew I was off course and took drastic measures to get me on a better path? What mysterious forces were at work?
Perhaps I'll never know the answer in this life. But one thing I do know. This is a perfect example of the Law of Polarity which states that within every "bad" experience is an equal and opposite "good."
The things that look horrible often are the best things that will ever happen to us. Now, if I can just remember this as I face other life challenges. Thank you, Facebook, for giving me some invaluable perspective by reminding me what I was doing a year ago today!
And thank you, God, for rescuing me and setting me on the right path!
PS: As proof that God never helps just one or two when he can help more, after my wreck, the county finally put in stop signs. They also added a bigger turn lane to correct this poor visibility spot which had been the scene of multiple wrecks.
Marnie (Pehrson) Marcus is a best-selling author and marketing and social media consultant specializing in digital content creation and Facebook Ad Management. Get a FREE 20-minute strategy session with Marnie here.