[This post is the third in a series where I'm sharing my journey with re-inventing my personal life. If you want to start at the beginning, go here. If you missed the 2nd post, go here.]
About the time I started dating Chris Marcus, I found this quote by Susan Bednar:
"Rather than expecting to 'fall in love,' pick someone with whom you can create the love that you desire."
I had a strong feeling that this was a man with whom I could create the love I desired. But my heart still hadn't fully healed from the last crushing blow. I was over the other guy, but I was jaded and fearful about trusting any man with my heart. I moved forward, but I could tell I wasn't opening my heart fully.
While the chemistry was great with Chris, my brain was at the controls and told my hormones to take a back seat. They weren't allowed to drive the train this time.
So from this very cerebral place, I approached a budding relationship with a man who fit my affirmations to a T. One night he even referred to me as a "pearl of great price." My jaw dropped since it was an analogy straight from my affirmations list. What's more, he instantly saw my value and said his search was over after the first date! (The affirmation was: "My man easily commits to me. He instantly sees my value and snatches me up because he knows he's found a priceless pearl.")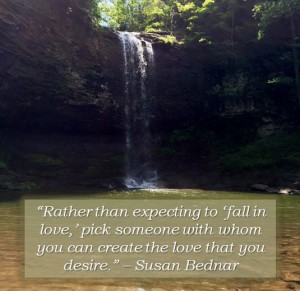 One of my affirmations was "My man pursues me."  Chris is a cop, and he knows how to pursue! While he was immediately convinced I was the woman he wanted, I needed more time. Primarily, time to find the ability to trust myself again.
After about 9 dates with him, I took a trip to Utah and Idaho for 24 days. Every morning I'd wake up with Chris on my mind. Was he my SAM?
I didn't want to hurt him or lead him on. He happened to be the son of one of my very good friends. His mom was my Sunday School teacher when I was 10 to 11-years-old, and I've been her visiting teacher at church for the last 3 years. She was pivotal in helping me get through the divorce. My fondness for her made me extra cautious about not doing anything to hurt Chris.
I also didn't want to be hurt again. My heart had been hammered, and it was extremely reluctant to open up again.
Was it safe to open my heart?
The days of prayer marched on without a clear answer. Some days I felt like he was who I'd been searching for. Other days I didn't know. Finally, on the Monday before I returned home, I was conducting a writer retreat with my friend Martina Muir. It was the first day of the retreat and before everyone arrived, Martina did a little energy therapy with me and discovered that my heart had assigned my "SAM" to the man who had broken my heart.
She disconnected it from him and reconnected SAM to God. She told me, "When you find a man who treats you like the Savior would, you will know you have found your SAM."
Later that evening I was sitting outside on the back steps of the retreat house, texting Chris when out of the blue this download of divine love for him poured into my heart and mind. I can't adequately put the feeling into words. It was a love like nothing I've ever experienced. A heavenly love and knowledge that told me this man would love me like I'd never been loved before. This man would value me and be fertile soil in which my life would flourish. This was a man I could co-create the love I'd longed for.
Ask yourself, are you valuing yourself? Are you looking for supportive people to add to your life who will treat you as the Savior would?
Click here to read the next piece of the story…
Marnie (Pehrson) Marcus is a best-selling author and marketing and social media consultant specializing in digital content creation and Facebook Ad Management. Get a FREE 20-minute strategy session with Marnie here.