Do you have trouble making choices about which idea to pursue?
Do you find yourself perpetually taking trainings and learning new things, but never really implementing?
Do you have so many ideas it feels impossible to choose one direction and follow it?
Do you feel like there's so much more to learn, you aren't "ready" to actually run with any one business idea?
If so, I want you to know you're not alone. There are lots of people like you who are ever learning but have trouble implementing. A lot of it has to do with your core connecting style, which I'd guess is probably one who sees lots of POTENTIAL. Folks like this (and I'm one of them) have a hard time choosing one thing because we feel like we're sacrificing all the other choices.
People who operate from a POTENTIAL core also feel they never know enough because there is always more to learn. This creates a perfectionism that can cause you to stay in endless prep mode.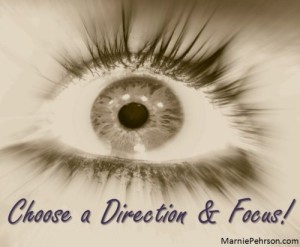 Half the battle is realizing that this is the nature of your personality type and to FORCE yourself to choose a path. Often the path you choose is not as important as that you choose SOMETHING.
I know it seems like a leap, but if you zone in on one focus, and avoid the tendency to veer off into something else, you'll start to see real progress.
I will warn you that when you do choose one path, you will most likely panic at first because you will feel the need to MOURN the other paths you're not choosing. That's okay. Just acknowledge that feeling for what it is and move on with your focus.
Making Choices Doesn't Have to Be Difficult
If you're having trouble picking an idea to pursue, I invite you to watch this video tutorial. In it, I share a formula for evaluating your ideas in a clear, definitive way so you can make choices quickly and start making money from them.
Marnie Pehrson is a best-selling author and marketing and social media consultant specializing in digital content creation and Facebook Ad Management. Get a FREE 20-minute strategy session with Marnie here.