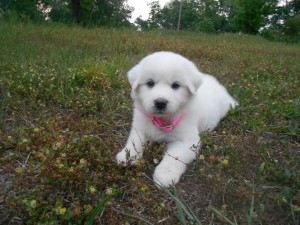 For my birthday I treated myself to two things… a Kindle Fire and a Great Pyrenees puppy. I love these dogs. They're so sweet-natured, beautiful and protective of their family.  I purchased Snow White aka "Snow" from a breeder in Athens, Tennessee on May 3rd. We're crate-training her.
She had a rough couple of nights, but a friend said she slept by her puppy's crate for the first couple nights and that helped. So my two younger boys agreed to camp out on the air mattress next to the crate for about 3 nights. Now she's sleeping through the night without whining. And she's doing quite well with her house-training.
Snow is a cutie-pie and she loves flowers … well, she loves to shred them anyway. That's what this short little video is about… beware poppies! Snow's on the loose!
Marnie Pehrson is a best-selling author and marketing and social media consultant specializing in digital content creation and Facebook Ad Management. Get a FREE 20-minute strategy session with Marnie here.