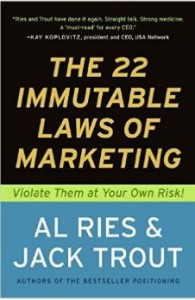 I'm gleaning marketing lessons by re-reading "The 22 Immutable Laws of Marketing: Violate Them At Your Own Risk" again. I originally found this back in the late 90's and it significantly impacted my business.
The book, by Jack Trout and Al Reis, starts by saying that to succeed in marketing you want to be first to be known in your category. If you're not going to be first, then make up a new category.
Marketing Lessons from Trump & Clinton
I'm thinking of this in terms of the upcoming election. Clinton's obviously going for the "first woman president" category.
I think Trump is #1 in the "America first" category. This is depicted in his political incorrectness. That's what's made him stand out and be popular — a maverick entrepreneur who is giving a voice to traditional Americans who are sick of the political correctness and want to think, believe and speak what they want.
His border and immigration policies are cohesive with his "America first" brand. Nationalism in opposition to globalism. (These are examples of laws 1 and 2: the Law of Leadership and the Law of the Category.)
The "make America great again" slogan represents Trump's America First niche while Clinton's "I'm with her" slogan speaks to her "first woman president" objective. These slogans are representative of Law 5: The Law of Focus.
Law 8: the Law of Duality states that every marketing race tends to dwindle down to 2 main players (think Coke and Pepsi). While there are 3rd party candidates in the US, they don't stand a chance because by this late in the game, the Law of Duality has already taken us down to a two-horse marketing race.
Kind of fascinating to examine these laws at work in not only business, but also politics.
Join me for Marnie's Marketing Mondays as I discuss the laws of marketing and how to practically apply them in your business. Click here to learn more.