Point of Clarification to the World:
Just because someone sees the signs and can use their common sense to predict something bad is going to happen does not mean that person WANTS it to happen or that s/he is contributing to it happening. It also doesn't mean the person is operating out of fear. He or she is probably just looking at facts and projecting them forward.
Predicting Isn't Creating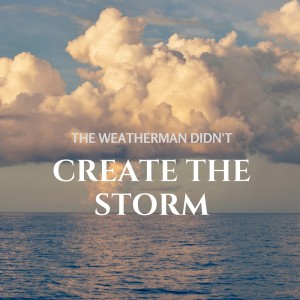 I believe in the "law of attraction" as much as anyone, but this idea that you can stick your head in the sand, not see (or say) what's happening, and sing Kumbaya isn't a solution.
To assume that someone predicting a bad thing is the same as creating it is like saying the weather forecaster created the storm.
Or here's another practical analogy. If you want to go to a new destination you really need to take a good hard look at where you are right now.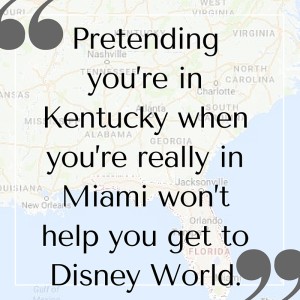 Pretending you're in Kentucky when you're really in Miami won't help you get to Disney World.
This goes for all areas of our lives.