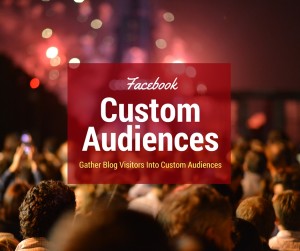 Have you ever wished you could reach everyone who read one of your blog posts? Or maybe you wish you could gather everyone who read a series of your blog posts on a certain topic? With Facebook's Custom Audience feature, you can gather a list of people who have read specific blog posts or visited specific pages on your web site -- without them even having to opt-in to anything.
The first thing you need to do is add the Facebook Pixel to the header of your blog pages. Here's how to add the Facebook pixel to your WordPress site in only about 6 minutes.
Then, in this video I show you how to gather a custom audience of people who have read a series of blog posts. Once the list is large enough (20 or more people) you can run Facebook ads to these individuals. This is a great way to reach people whom you know are interested in your topic.
Marnie Pehrson is a best-selling author and marketing and social media consultant specializing in digital content creation and Facebook Ad Management. Get a FREE 20-minute strategy session with Marnie here.